Not the Average Girls, I Mean Twins Next Door…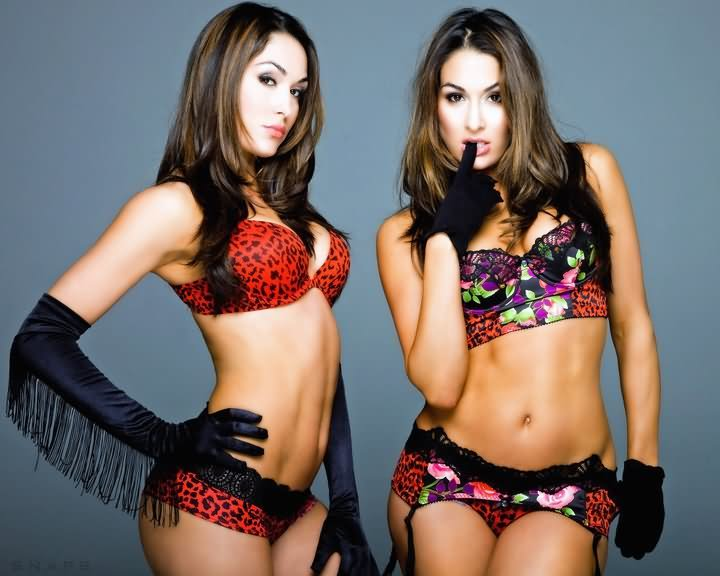 The dynamic duo, Brianna and Nicole Garcia-Colace, known best as the Professional WWE Wrestlers, The Bella Twins, make being smart, sassy, and sexy look easy.  Born in San Diego, California on November 21, 1983, their parents didn't even know they were having twins! Brianna was the welcome surprise. From the start, both girls have surprised the world with their fun-loving personalities, immense physical abilities (and attributes) and hot-blooded charm; it's the joy of being alike, yet being totally different from one another.
After high school, the plan was to go to San Diego to go to college, which they did, but somehow, their beautiful bodies and faces ended up in Los Angeles to pursue careers in acting and modeling. No surprise there. They did the time-honored things to make it work: cocktail waitress, modeling, event hosts. Their first national TV appearance was on the Fox Reality show Meet My Folks in 2003. Following this episode, the Garcia twins were hired to be the World Cup Twins for Budweiser and were photographed holding the World Cup trophy. Then Nicole and Brianna had a major life changing year in 2006 with their participation in the International Body Doubles Twins Search, which lead to the WWE Diva Search. One of the biggest challenges for the twins was the decision to make the move to Tampa, Florida in June of 2007 to train as wrestlers for the WWE.
So, you think that all the attention and jet-setting might have made these girls flighty? Think again – there isn't an ounce of ditzy in either of these savvy ladies. Their level-headed, warm-hearted childhood in Phoenix, and being part of a big Italian-Mexican family, made them plenty grounded. With 13 cousins, who are more like siblings, and a tight ring of good, close girlfriends, then and now, they have plenty of back-up when it comes to the morale department. They aren't getting lost, their family and friends wouldn't let that happen. The twins wouldn't have it any other way.
The competitive side of their natures showed early, and is still thumping; they started playing soccer in the 3rd grade, running to the mantra that the goal is always to win. Turned out, they were natural athletes. A day without working-out is unheard of.
And that love of sports? Well, obviously, it's still there, they are professional wrestlers, after all. But when they aren't working, they channel that love of sports through a passion for the NFL: you'd be hard-pressed to find more die-hard Philadelphia Eagles fans. If they can't play football or watch it, or get to a hot tailgate party, well, then, they'll talk or fantasize about it. Down guys – we're talking Fantasy Football. Recently the two brightened up Boomer and Carton in the Morning, a morning drive sports radio program on WFAN in New York City. Last season they sparked up the proceedings as guests on the Ashton Kutcher Fantasy Football show via the web.
Their mantra of winning has served them well.  Now, they are the beautiful Bella Twins! Don't miss them; watching these two beauties spark the airwaves will be well worth your time. Currently you can see the twins work their magic and competitive spirit on Monday Night Raw.
Hola Mami's and Papi's! It's Nicole…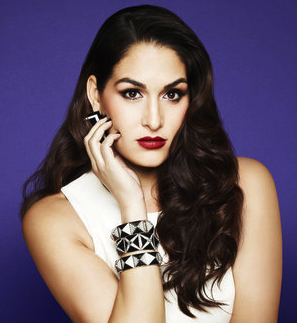 Think you know Nicole? Think again. She's the oldest of the twins by 16 minutes, and a natural- born leader of the pack. Totally modern, yet she's especially attuned to the classic entertainment icons: search through her iPod, or keep an ear cocked as she plans her next rockin' party,and you'll hear the smooth tunes of Mr. Frank Sinatra or Dean Martin offering inspiration.Nicole's personality reflects her flashy, yet sexy, style. A large part of that style is not being afraid to speak her mind: if this lady has something to say, you'll know it.  She's California all the way, making her home in sunny San Diego.
Q:  What was your biggest life changing moment?
A: (Nicole) Being with my Pop Pop as he passed away it showed me how important family is to have in our life, how precious life is, and that I hope & pray to find a man like him one day.

Q: What is the biggest challenge you have faced in your career or in life?
A: (Nicole) It was moving to Tampa far away from my family and boyfriend at the time. I had the most amazing road trip across the country on the way there that made the move worth it! And of course it has given me one awesome career
Let's "Paint" A Picture of Brianna…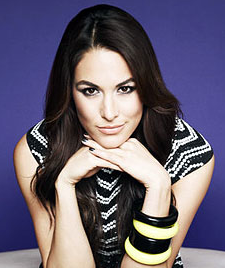 Having the softer approach of the two twins doesn't mean Brianna can't hold her own. She, too, speaks her mind, gets straight to the point, but in a smoother way. What moves Brianna is the beat of rock and roll and indulging her passion for art. Drawing and painting are how this diva spends her spare time. Her saucy vibes and energy are pulled from the great energy of New York City, where she lives.
Q: What is the biggest challenge you have faced in your career or in life?
A: (Brianna) My biggest challenge in my career would be leaving my family and boyfriend at the time to pursue wrestling. I had made a great little life for myself in Los Angeles, but wanting to be with WWE and train as a wrestler  I knew I had to make the move to Tampa. Which I have no regrets doing!!!
Q: What was your biggest life changing moment?
A: (Brianna) Death is always a life changing experience, especially when the person is close to you. At 18, I had to experience losing my boyfriend to a tragic death. Not only was it sad losing my boyfriend but his beautiful soul. I was fortunate enough to learn from him. Instead of losing Faith I gained spirituality. He has a very special place in my heart, always will. The Bear Claws you see on my lower stomach are in memory of him.
Also See Brianna & Nicole in Episodes of:
Total Divas
Jimmy Kimmel Live
Ridiculousness
Fashion Police
The Soup
Celebrity Sweat
Gossip Girl
Extreme Makeover: Home Edition
The Price Is Right
Cake Boss