Archive | The Traveling Dolls Blog
RSS feed for this section
Summerslam Weekend Photos
August 21, 2012









Nicole and Brianna T-Shirts Coming Soon!!
August 21, 2012

Nicole and Brianna T-Shirts Coming Soon! Who wants one?! Taking a poll so help us out #BnNArmy!
Besos!
B&N
Ridiculousness Monday October 8th
August 21, 2012


Make sure you check out Ridiculousness @Ridiculousness Monday October 8th as we host that episode with Rob Dyrdek @robdyrdek Chanel West Coast @chanelwestcoast & Steelo Brim @SteeloBrim! Believe us you are not going to want to miss this! Plus we have Lil B (Divas Championship) with us for that episode!
Ridiculousness on MTV @MTV Monday's at 10/9c
Besos!
B&N
Winner of 4th of July Contest
July 5, 2012
 The winner of our 4th of Jully contest is Shaina!!! Congrats! We LOVED your outfit, definitely something we would put together. 
Hope everyone had a safe and beautiful holiday!!
Besos!
B&N
Here's the winner…..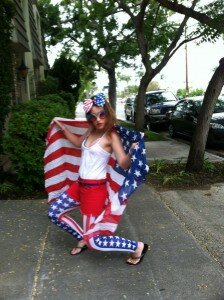 4th of July Contest
July 4, 2012
This year we want to do a Happy 4th of July Contest!
We want to see the best american outfit and if you win you get our american dresses from Iraq and a free signed Maxim (yes the one where we are on the cover)
post your pic and we will choose the winner thursday….only one winner will be choosen!!
Examples of some fun outfits below….. compliments of the Bella family…..Lola and Brother Bella
Happy 4th of July Dressing,
Besos!
B&N





June 6, 2012
 Ty
To my friend in Heaven.  You will never be forgotten.  Not one day hasn't gone by where you haven't been a tear on my face or a thought in my brain.  You were the definition of Life.  No one enjoyed it more than you.  I miss your texts.  I miss your laugh.  I miss you.  I wish I was a better friend that stayed in touch.  But I guess that's what you taught me when you left.  You are footprints in my heart.  I want to understand better why you had to go.  In God I trust and he knows.  My faith keeps a smile on my face.  I know your soul roams Heaven which there's no better place.  Thank you for always checking up on me.  Thank you for always making me feel special.  Thank you for being a good friend.  Thank you for being you.  Love you.  Nicole






Today make sure you tell someone that you care about that you love them.  Call a friend today that you haven't talked to in awhile because you never know when they will be gone.  Love you #BnNArmy! More than you know! Besos! N 
Contest Winners
May 22, 2012
 This was one of the hardest decisions we had to make. There were sooooooo many amazing ideas!!! We honestly didn't know how to choose.
How much Nicole and I would love to keep Bella in our name, we can't
How much we love Twin Magic in our name, we can't
What we realized is that a majority of everyone signed off with Besos or used Besos in their idea. When you think of Besos you really do think of The Bella Twins. We always want you to remember The Bellas and being the Bella Army so…….
New BOOTCAMP name……     Besos BootCamp
Now here is the Winner of the new Bella Army name….
Amanda with B&N Army
It was a hard decision and Amanda wrote it first…..we loved all the creativity, but you all know us as B&N. It's what we used as the Bella Twins and it's what we will continue to use. We thought it would be perfect!!! 
We LOVED all the videos sent in. You honestly made Nicole and I cry. VERY touching videos. Thank you!!!
We ended up picking two winners…
Malick and Richard
Malick's Video was very much all about the Bella Twins and Richard's video was very much about the Bella Army. It was a perfect combination of our career at WWE. The memories we made and the memories you all brought us. Wow! I'm tearing up writing this. Thank you all. We truly love your support and love.
Malick's Video
http://www.youtube.com/watch?v=cWKqD31gK6k 
Richard's Video
Thank you again for participating B&N Army,
Besos!
B&N
Announcing Winners Tomorrow
May 22, 2012
 We have spent all day going back and forth with names and videos….it's been such a hard decision! Soooo many great name ideas and amazing videos. We have brought it down to a couple, so we are going to need more time tonight and announce the WINNERS tomorrow.
Thank you again for all you hard work and creative minds!!!
Besos!
B&N
May 14, 2012
 Hello Bella Army!!!
We have come up with 2 really cool contests!
Contest #1
We want you to put together "The Best Bella Twins' Memories" of our career video. We will judge these videos and the one we like best will win a Bella Twin package.
Contest #2
How much we LOVE Bella Army we want to come up with a new Army name. Something that relates to all of you, Nikki and I. Something you all would like to be called. Please submit your ideas!! The winner of the new Army name will receive a Bella Twin package.
The Bella Twin package will consist of gear we have worn on tv, signed pictures and a personalized letter from Nikki and I Thanking  You!!
Submit Video Links and Army name Ideas under comments to this Post. We will pick the Winners in exactly one week, Monday the 21st!
Happy Submitting Bella Army,
Bri and Nicole
Besos!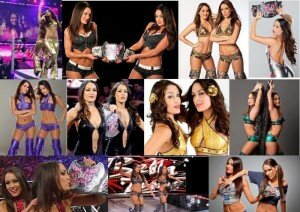 May 9, 2012
 It was a close race…..but SUPER HERO won!!!
We will be filming backstage footage of our shoot and share with you all!!
Also, thank you for some really creative cute ideas. We will definitely be using them in the future! (the car mechanic one was my fav)
Have a Beautiful day Bella Army!!
Besos! B&N
Fan Photos