So I know what your thinking, Long time No Blog! I guess that's
why I named it the Traveling Dolls. Life has been very busy the last
couple weeks for Nikki and I…..Alright so maybe more fun than hard
work, but definitely traveling all over…..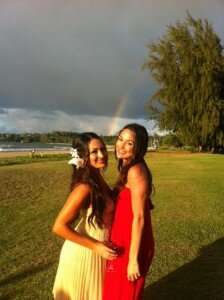 Our excursion started in Tinsel Town then took us over the
ocean to a beautiful little island called Kauai. Yes, Kauai felt like
Jarassic Park and Yes, the hardest decision I had to make was either
having a Pina Colada or a Mai Tai. We were there to celebrate a best
friend's wedding….as the saying goes, Always a Bridesmaid never a
Bride. I have to say Hawaii isn't a bad place to be single……half
naked guys everywhere!!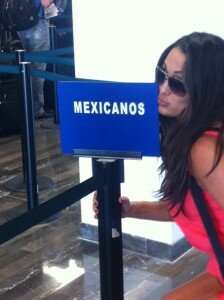 After enjoying the beach and no technology
we headed to Mexico. Viva Mexico! We jumped on the RAW tour and it was a
fiesta all the way to Mexico City. So now we are 3 weeks away from home,
and you're thinking "I don't feel bad for you!" lol …I know! After we
flirted with the GM of RAW we headed back to the concrete jungle. New
York City is where I live and I had two very special people coming to
visit; Nikki and my Grandmother. I know what you're thinking, Nikki and
I see each other constantly and we get sick of each other, but this was
a special trip. We stayed in the Upper East Side at the The Regency
Hotel. We wanted to make it a special week because my grandmother hadn't
been to NYC for 59 years…..crazy right!?! Nikki and I wanted to show
her what she has been missing from this amazing city and that is exactly
what we did. We hit up the most elegant historic restaurants….The
Waverly Inn, The Carlyel and Sparks Steak House, then we enjoyed classic
jazz lounges. We took a carriage ride through Central Park and a must
visit to the Statue of Liberty and 9/11 Memorial. We caught up on art at
The Met and enjoyed shopping on 5th Ave.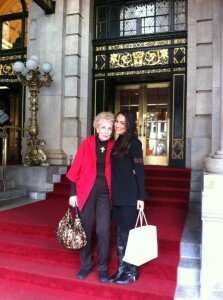 Most importantly we had
memorial conversations over wine that I'll take with me forever! It was
time for Nikki and I to leave the city and head to cowboy country in
Texas. We enjoyed Corpus, the PPV in San Antonio and lastly Austin. Side
Note…Austin is my favorite city in Texas, love it there. Now I'm
headed back home to New York for a great week going into Halloween.
Not too shabby for a Traveling Doll
Love to you all,
xxoo Brie