I know Birthdays are only one day, but Bella style they last one week
So now I'm going to tell you about Nikki and my fantastic week as Birthday girls! We celebrated our week in the best city in the world, New York. Tuesday night we unpacked from the Raw UK tour and Boston tv….we made my cute little apartment into a fun dressing room. We hung up all of our cute outfits and laid out our party gear. Tuesday was our hydrate and sleep night. We wanted to make sure we were rested and hydrated for the week. Wednesday came and I made Nikki an amazing egg white breakfast then we had a killer workout. Our girlfriends surprised us to a hipster dinner then off to a champagne wine bar. They were playing our favorite, Frank Sinatra. After wednesday set the mood, we decided to treat ourselves to 5th Avenue shopping. After sun glasses, shoes and a couple cute shirts we ended up at NoBu with our Upper East Side friends, another celebration down
Then the sun came up Friday and Nikki and I broke a great sweat then we let ourselves get lost in the city. We took in the great Fall day and people watched. One of our closest friend insisted to make us an Italian feast, he said it was a pre birthday dinner. Oh did we FEAST!!! It was Bon Appetit! Quickly came Saturday and we did a signing at KMart where we saw many of the WWE Universe. Soooo fun! Easy night at home to get ready for MSG. Having Madison Square Garden in my Birthday week was a treat. The show was awesome, we ROCKED it! Now it's Monday November 21st and we are headed to Hershey, PA. Nikki and I talked the entire way of our 28 years here on planet earth and how many great memories we have……also how many more we are going to make in our next 28 years….
Everyone has been toasting me the last week so here's my toast….
Thank you to all of our fans for being a great part of our many memories….all your birthday wishes touched Nikki and I and we are so grateful!!
Love you all…
Your Birthday Girl,
Brie Xxoo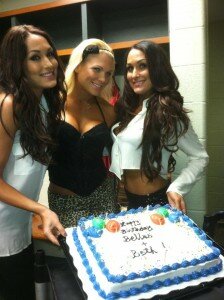 P. S. Happy Birthday to Beth on her day 11/24